SUSTAINABILITY "Saving the Unknown World" - Scientific Webinar 2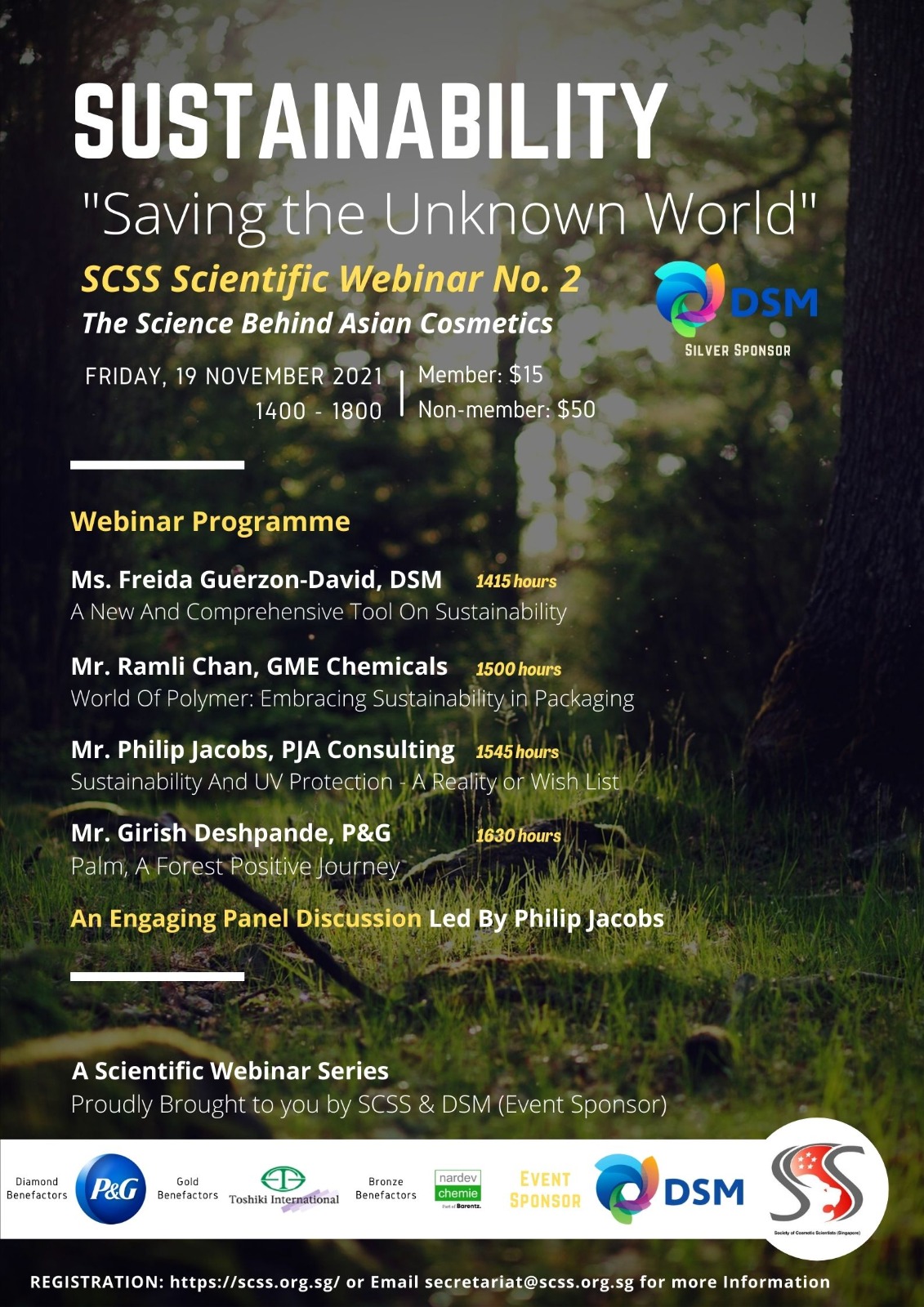 SCSS would like to invite you to our second webinar "The Science Behind Asian Cosmetics - Scientific Webinar 2, Saving the unknown world".
Registration Fee:
Non-Member: $50
Members: $15 (Enter promo code)
Freida Guerzon-David - DSM Nutritional Products
Freida David is a licensed chemist with 6yrs work experience in academic research, and extensive experience in personal care product development having worked as a formulator for 15yrs and in marketing for 5yrs in a multinational environment.
She is currently the CDCS & Regional Marcom Lead for Personal Care & Aroma in APAC at DSM Nutritional Products (Singapore).
Philip Jacobs PJA Consulting - PJA Consulting
Philip Jacobs's tertiary background is Mechanical Engineering with experience in Food, Pharmaceutical and Cosmetic Industries.
In 1977 Philip joined the Cosmetic Industry in Australia and focused on the UV Protection Market. In 1994 he relocated to Singapore for a Regional Cosmetics Ingredients Management position.
Philip worked with Givaudan and Symrise before establishing his own Consulting Business in 2006.
Philip conducts UV Protection training programmes and has been an Adjunct Lecturer for Sunscreen related courses at the Singapore Polytechnic.
Philip is a Life Member of the SCSS and a member of the ASCC and is a respected Cosmetic and UV Protection lecturer in the region.
Ramli Chan GME Chemicals - GME Chemicals
Chan Ramli, Sales Director of GME Chemicals (A member of the Biesterfeld Group), is one of the active facilitators of sustainable activities across various industry value chains.
Since 2003, he has worked actively to promote recycling, bio-polymers and the partial replacement of polymers by use of wood fibres and inorganic minerals.
In partnership with a highly diversified customer base in Southeast Asia, this experience has given him a broad-based overview of opportunities and challenges that are faced when embracing sustainability in the world of polymers
Girish Deshpande - Procter & Gamble
Girish Deshpande, a graduate of Chem Engineering of Loughborough University in the UK, a P&G Sustainability Director, based in the UK, focusing currently on Palm ESG. Girish is a 30+ yr veteran of P&G, working across manufacturing, supply chain network and now in the ESG disciplines and has worked across the majority of the business units in multiple locations in his P&G career.
There will be no refund for cancellation/withdrawal once the registration has been completed.