The Science Behind Asian Cosmetics - Scientific Webinar 1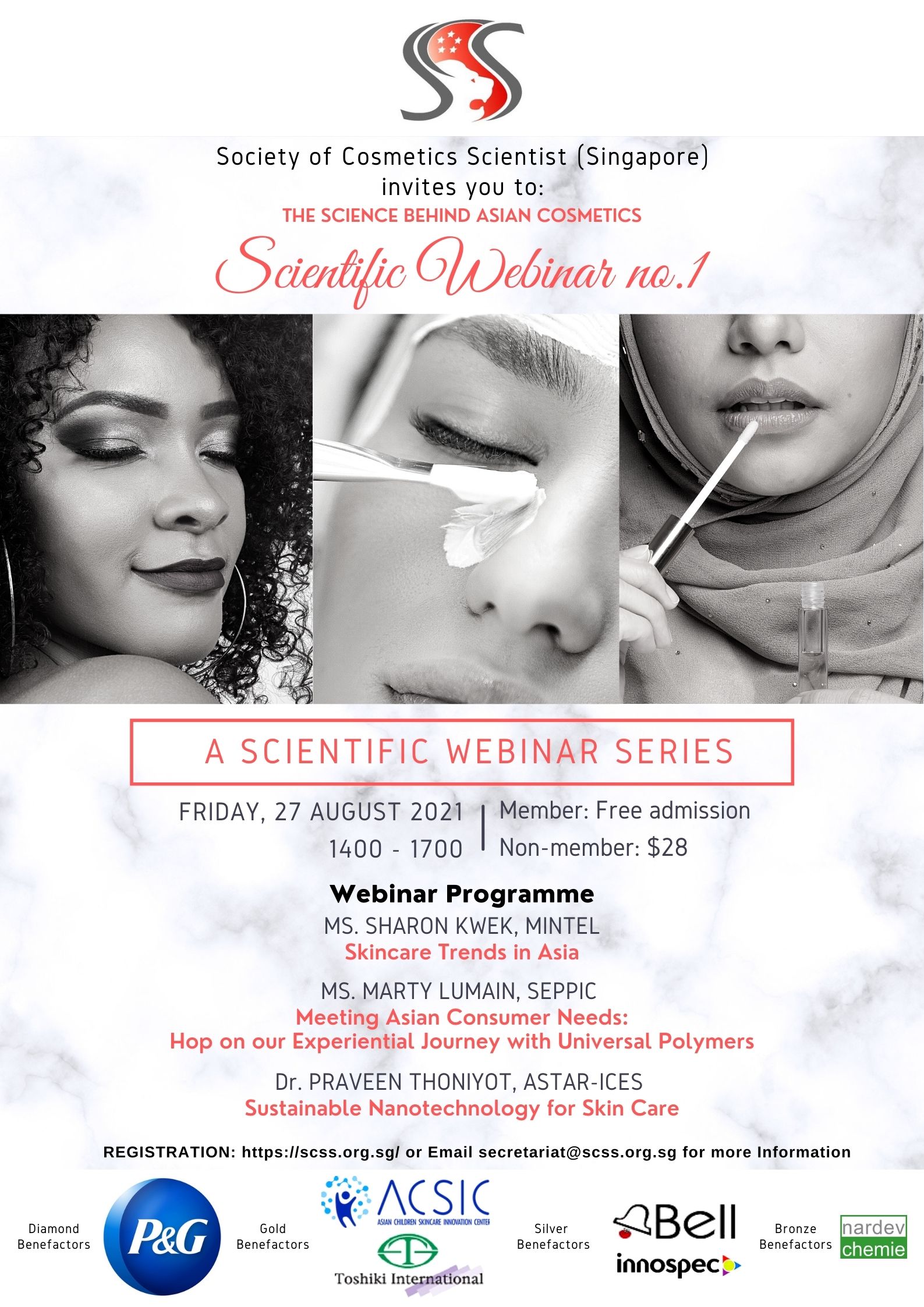 SCSS would like to invite you to our first webinar "The Science Behind Asian Cosmetics - Scientific Webinar 1".
Our speakers are:
Ms. Sharon Kwek - From Mintel
Topic: Skin Trends in Asia

Associate Director, Beauty and Personal Care, Southeast Asia

Sharon brings over ten years of experience in the FMCG industry, helping manufacturers, retailers and brand owners to develop their beauty businesses in Southeast Asia. Her business networks include countries such as Japan, Philippines, Thailand, Indonesia, as well as the US and UK among others.

As an Associate Director at Mintel, Sharon is responsible for providing regional trend insights and analysis in Beauty & Personal Care categories for key clients within the business, with a focus on the Southeast Asia region. In this role, Sharon spearheaded new brand launches, from negotiating distribution rights, to pitching sales to buyers and eventually delivering marketing campaigns for official launches as well as product training with key retailers such as Watsons, SaSa Singapore, BHG Singapore and Sephora Singapore
• Ms. Marty Lumain - From SEPPIC ASIA Beauty Care

Topic: Experiential Journey with Universal Polymers

Asia Pacific Beauty Care Operation Marketing & Senior Business Development Manager

A Chemical Engineer by profession and has vast experience in the field of beauty care. She started in the academe and then took pride in fulfilling her roles in R&D, technical marketing and business development in reputable companies on a regional level.

Currently, she handles Sales and Marketing for SEPPIC ASIA Beauty Care.
• Dr. Parveen Thoniyot - From Institute of Chemical and Engineering Sciences (ICES), A*STAR

Topic: Sustainable Nanotechnology for Skin Care

Senior Scientist and Team Leader

In 2005, he joined A*STAR and held various research positions before joining ICES in 2015. Thoniyot is passionate about incorporating sustainability and a systems-thinking approach into all his research projects. He specializes in Encapsulation technology, Biodegradable Polymers, Synthesis of functional polymers and hydrogels, Nanotechnology and Optical Sensing and Application of chemistry in biology and material science.
Registration Fee: 
Non-Member: $28
Members: Free (Enter promo code)
There will be no refund for cancellation/withdrawal once the registration has been completed.